PTA
Bellefield's Parent Teachers Association (BPTA) proactively supports the school to help every child enjoy learning, achieve success and become contented and fulfilled. BPTA organises a whole host of fun events throughout the school year, as well as securing funding from third parties to raise money that helps pay for additional equipment, educational resources and trips, to the benefit of every pupil in the school. Recently the PTA has helped fund the brilliant new outdoor play equipment that is already much-loved by all our children! To find out how to join the PTA please email bellefieldpta@yahoo.com
To visit the PTA website please click on the following link
Click HERE for ways you can help support the Bellefield PTA!
Current Vacancies on the PTA
How can I help? The current PTA have lost some key members and need to fill the following roles...
Chair - Lead the committee by overseeing the group, delegating tasks and liaising with the school and volunteers. Ensures the PTA keeps on track and follows the guidelines set out in their constitution and by the charity commission.
Suits people who are… • Strong leaders • Diplomatic and fair • Enthusiastic & good delegators
Treasurer - Manages the day-to-day finances, keeps and reports accurate records of the PTA's finances. Arranges floats for events and ensures cash is kept safe. Monitors payments for events and activities.
Suits people who are… • Confident at handling money and budgets • Good with numbers & Methodical
Secretary - Assists the chair with meetings/agendas and takes minutes. Writes the school newsletter. Look after posters and risk assessments
Suits people who are… • Great communicators • Accurate writers • Helpful and motivated
Ordinary members - Attend meetings, come up with ideas, discuss and make plans, help at events (on the day or in advance) Go shopping! Help happy, grateful children with their PTA activities such as wrapping presents or writing cards. Run a tombola, cook hot dogs, sell uniform, use AmazonSmile, and much more!
Suits people who are... • Parents or carers of a child within the school • Keen to have fun and be included in a like minded group of fun people
Whatever you do: Volunteer around your life, (we know your family comes first) help when YOU have time and in a way that YOU enjoy!
The current Chair and treasurer are happy to help in any way to get a new team set up and pass on everything they have learnt. Contact bellefieldpta@yahoo.com
To reduce the risk of lost uniform, why not take advantage of 24% off your order at mynametags.com by using our school ID (74547) when making a purchase. The PTA also receives a donation for every purchase made. Please find more information in the attachments.
Asda Green Token Vote now closed!
Bellefield PTA are pleased to announce that we are one of three local PTAs nominated to take part in the Trowbridge Asda Foundation Green Token Giving online vote!
Thank you to those of you that took the time to vote for the ASDA green tokens - we came third and received £300.
Upcoming and Recent Events:
Upcoming Events:
Bellefield PTA are very hopeful that our most popular activities will be able to take place in 2022/23 and we're pleased to announce the following dates for your diary, further details and online bookings for each will follow in due course:
Summer Fair 2023
Bellefield PTA would like to say a massive thank you to the following for donations towards the Summer Fair 2023: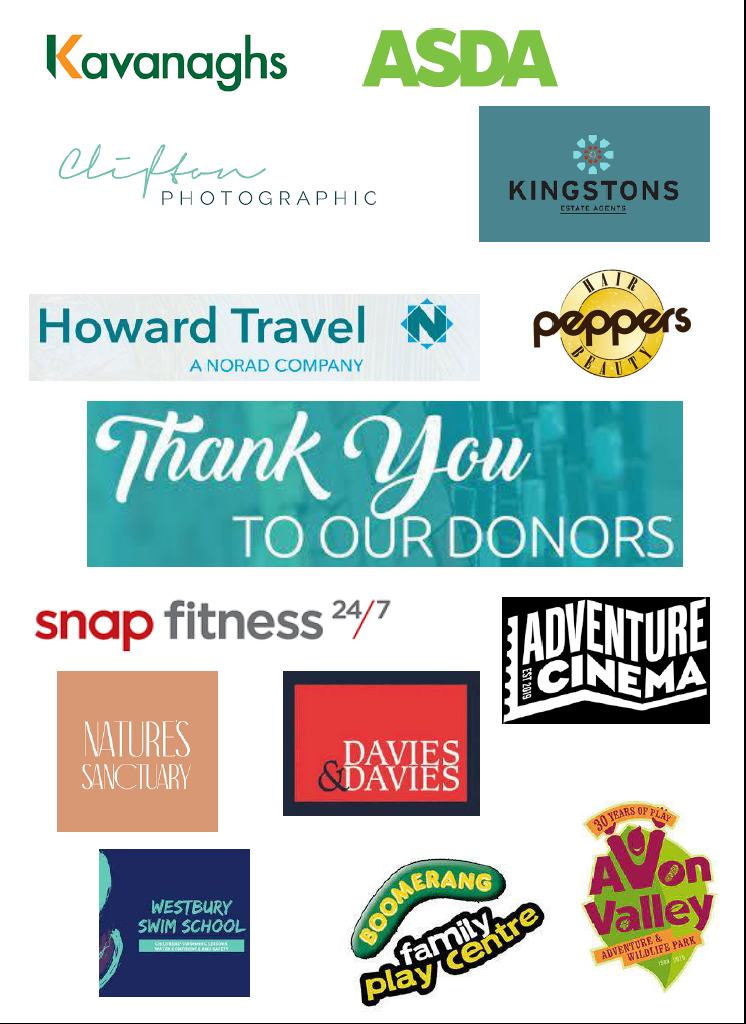 Previous Events:
Chocolate Bingo 2023
Thank you to everyone who came to our amazing chocolate bingo. There were some fabulous prizes won on the night. Thanks too to Mr Rees made a particular impact with his sparkly jacket and great bingo calling! We'd also like to thank the local organisations who supported us including Tall Trees Kindergarten who for the second year running were our main sponsor for the event and the following companies who kindly provided raffle prizes: Kingstons Estate Agents, Baloos Soft Play, Peppers Hair and Beauty, Clifton Photographic and Dominos Pizza.
Mother's Day Activity 2023
The PTA arranged another wonderful event making gifts for the woman in our lives and the children had lots of fun creating their gifts. Many thanks to all the volunteers who assisted.
Santa Wrap 2022
Every year the PTA organises the Santa Wrap. This fantastic event happened during the school day on 9th December and children came to choose a Christmas present for family or friends from a great selection of items. Thank you to all of you who supported this event and volunteered on the day. We hope you love opening your gifts on Christmas morning, the children certainly enjoyed choosing them.
Disco November 2022
Our UV disco was back by popular demand this November and what a night! It was so lovely to see all the children back dancing in the hall, we raised an amazing £450! Many thanks to all who attended and parents and staff who helped at this event! We are pleased to report that we had record numbers attend this years disco, excellent feedback and raised over £650.
Summer Fair 2022
The PTA would like to say a big 'THANK YOU!' to the pupils, volunteers and staff who helped set up, man stalls and tidy up at the summer fair. It wouldn't have been possible to hold the event without you. Even though we decided not to increase prices from 2019 we still raised just over £1000! A fantastic total. Thank you to everyone who came along we hope you had a great afternoon.
Fathers Day Craft 2022 (in school)
Thank you to all our volunteers on the day, some lovely gifts were made for all the special men in the children's lives!
Chocolate Bingo 2022
A huge thank you to all who attended such a wonderful bingo night. Mr Rees was just fantastic as our bingo caller and we managed to raise £430.76!
Mother's Day!
The Mothering Sunday activities for 2022 managed to raise £205.55 and we hope those of you who had a present were very happy and spoiled rotten on the day.
Santa Wrap 2021
Thank you to all of you who donated, helped with the wrap and purchased a gift for their loved ones, it's been another very successful year and the children loved selecting their gifts! We raised a whopping £665 which has helped to fund a new mural within school and the class Christmas parties!
Father's Day
The PTA have been really pleased to hear that the Father's Day breakfast packs were so well received last weekend. Around £170 was raised for the school and a big thank-you must go to Nestle and Sainsburys for their kind donations of items which made this possible.
Mother's Day!
Bellefield PTA were overwhelmed by the response to our Mother's Day small gifts. A massive £189 was raised and this is a great start to 2021's fundraising. Thank you everyone!
Easter Trail 2021
The PTA would like to extend a massive thank you to everyone who participated in the Easter Trail. If you took part then please remember to submit your answer ASAP to be in with a chance to win some chocolate prizes
Pre-Loved Uniform
The PTA have a large selection of preloved school uniform for sale, all details of which can be found on the Facebook Page here 'Bellefield Primary School Uniform for sale'
Prices from just 50p an item, stock changes regularly. Please consider donating any uniform your child may have outgrown to the PTA.
You can now also use the following form to place your order! Just click on the below picture to take you directly to the Google order form.
2019 Events:
The Christmas Bazaar was an excellent success and certainly got us all into the festive spirit! Thank you to all the local traders who attended and a massive well done to Sam from Sycamore class who displayed his massive Lego Festive scene.
Thank you to all who attended and helped at the school disco on 14th November 2019. The UV Disco was a great success and the children loved the face painting. The children certainly raised the roof!
BPTA are pleased to announce that we raised over £440 and £270 at the 2019 Chocolate Bingo and Mother's Day events respectively. A fantastic result raising money to benefit the children of Bellefield School.
Entries for the Create and Invent Event:
The children enjoyed the Mother's and Father's Day PTA fundraising activities:
Annual Summer Fair - Wednesday 17th July
The fair was a huge success with plenty of smiles and ice creams sold. Tropical Discovery Workshops attended with their snakes, spiders, stick insects and more and it was great to see so many poeple brave enough to hold them! The BPTA would like to thank everyone who donated items or their time and all the staff that supported the event!
The PTA are thankful for the number of volunteers who help to run great activities and events for the children of Bellefield School. Below are a number of photo's displaying the breadth of activities we provide.
UPCOMING EVENTS
Father's Day!